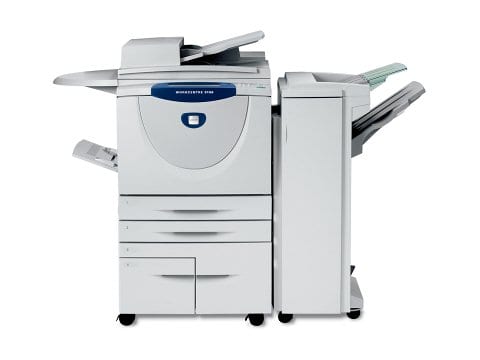 The Xerox company is known for producing multifunction devices that greatly help workplaces all over the world and with the introduction of the Xerox WorkCentre 5150PHF, more offices and workplaces will have an increased level of productivity because of this multifunction copier's features.

Overview

The Xerox WorkCentre 5150PHF is a network-ready printer with program settings that is friendly to its operator. This multifunction device has dependable scan and fax capabilities and very minimal system downtime. The Xerox WorkCentre 5150 prints with excellent speed and produces high-quality pages.

Awesome Features

The Xerox WorkCentre 5150PHF is a multifunction device with the capability to color scan, print, copy, fax forward to an email address, network scan, a sent-only PC fax, and scan to the email address, and scan to or print from a USB device. This multifunction device is walkup fax ready too.
Printing and copying operations are at a rate of thirty-five pages (35) per minute. Its document handler is a duplex ADF or Automatic Document Feeder with a sixty (60) sheets capacity. The paper capacity of this multifunction copier depends on where and what paper tray was used by the user.
The multipurpose tray can accommodate fifty (50) sheets of paper, the paper tray can handle five hundred (500) sheets, and the optional paper tray can also handle an additional five hundred (500) sheets. The Xerox WorkCentre 5150PHF can handle different sizes of paper. The output capacity is two hundred and fifty (250) sheets with standard two-sided output. Uses can process up to seventy-five thousand (75,000) images per month. There is also a staple that can be used on 50 sheets of paper peruse.
Dependable Multifunction Copier
The Xerox WorkCentre 5150PHF is a workhorse that can benefit any office or workplace. Its different functions are designed to meet the everyday needs of businesses. By being network ready, this multifunction copier can be placed anywhere or can be placed at a strategic location on the office ground floor. Maximizing the Xerox WorkCentre 5150PHF location, wherein it could be used by a large number of people is a good way in increasing the convenience and smooth operation of businesses.
Very Minimal System Downtime
Any multifunction copier is a great addition to the offices of a business operation, however, if that multifunction device breaks down a lot, the operation of the business is greatly affected. The downtime will cost the business money because opportunities to earn will be lost. The Xerox WorkCentre 5150PHF has almost zero downtime, which means the return of the cost of buying the multifunction device will be returned to the buyer rapidly. With less downtime or system errors, the operation of the business runs smooth and the chance to earn more money is always there.
With this in view, buying a Xerox WorkCentre 5150PHF for business is always a good decision because this multifunction machine has an immediate impact on creating a more productive place of work. If an office or workplace's devices operate smoothly, the people working therein work with a happier attitude and thus, more productive.
Conclusion
If you are in Lexington and you are looking for a Copier in Lexington for your business, you may contact Clear Choice Technical Services in Lexington. You can ask about Copier Leasing Services in Lexington, Copier rental services in Lexington, and Copier Repair in Lexington.
The features of a Xerox WorkCentre 5150PHF are more than enough to meet the needs of businesses like all Xerox multifunction devices do. To have one is always a good business decision due to its immediate effect on office productivity. Businessmen will be wise to go and look for this line of Xerox products in the nearest Xerox authorized seller or any store that has a special knowledge of copiers, printers, and multifunction devices. Good payment plans can be offered together with a reasonable price for the Xerox WorkCentre 5150PHF.